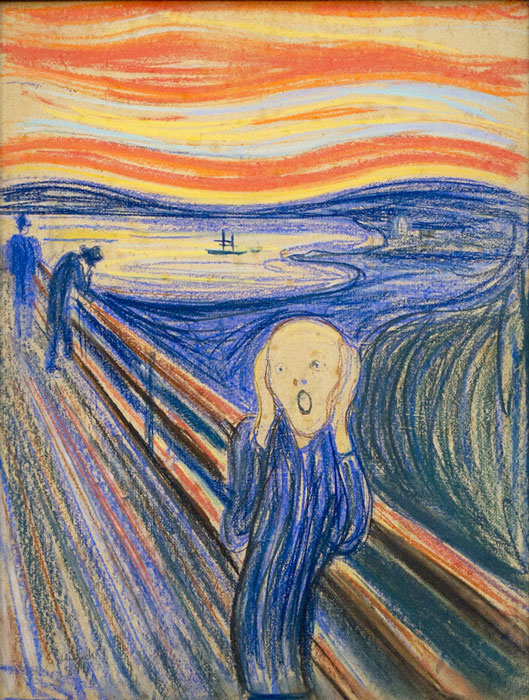 Edward Munch's pastel version of The Scream has just been auctioned at Sotheby's for the tidy sum of $120 million. OK, it is fairly large, 3 2" x 23.25" (81 x 59 cm), but as one critic put it "it is only a bit of pastel on a board".
Only?
Now, what then is the version made in oil and tempera? It is only a bit of pigment diluted with oil and eggs onna board. After all.
We all know why a pastel painting sells for that ridiculous sum -- it is the name, the brand, of Munch, and it is art as investment. (Or lottery, as the gamble is that it will sell for even more next time. It may, and then it may not.)
This sale is absolutely delightful for us pastel painters! 12 000 000 green bits of paper's worth of taking the medium seriously. The most expensive artwork sold. Wow!
No, dear critic, it is not "only" pastel. The pastels look like crayons, but are in reality almost pure pigment. I like to call them Pigment Ingots. Check the price of a high quality handmade stick of pastel, and you'll see why.
These pigments applied to materials that will withstand the ravages of time will stay fresh and bright, while oilpaint yellows and cracks. Pastels are a painting medium, as well as a drawing medium. (But so is any other medium.) The Munch isn't sold as a 'drawing'.
There are so many accomplished pastel artists all over the world. They know the worth of the medium, and now the rest of the world knows it too.
If you are looking for investing in a beautiful work of art which will look as fresh in 500 years as it does the day the artist takes it off the ease, then get pastel paintings. You are welcome to browse my pastel paintings, which can be yours.
And who knows, one day you'll sell the one you get for... well... let's be modest now -- say about $ 150 million!
Suddenly, that is a possibility, thanks to Munch!