I'm a WetCanvas addict. One reason is the Image Library, where photos taken by artists are shared with other artist for free use as reference material. I want to thank Susan (username susnfx) for the great photo I used for inspiration for my painting "Aspens and Path". I chose a portion, and simplified all that busy 'green stuff', rejected some trees, and came up with a start of a dry pastel painting. It is on an artist's sandpaper, Fisher 400. Unison pastels are rich in pigment, so I decided to wet a brush with water and brush out all that lovely pigment: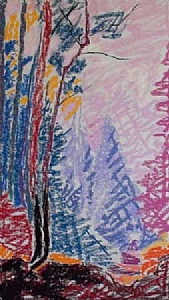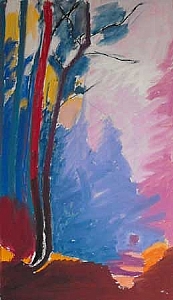 The wetted pigments filled the tooth of the paper wonderfully well. I allowed it all to dry thoroughly before continuing applying pastel in a slightly looser and more 'scribbly' way than usual -- the painting is relatively big for this medium.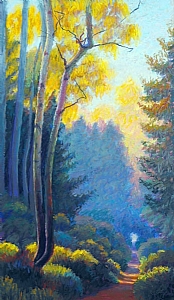 Here I stopped for a while, having almost finished it. Now I needed to make the final decisions. The background yellowy foliage was too yellow, competing with the more close foliage. The simplified mass of firs was too simple and silhouetted. The light stroking the bushes were too close to the edges, and some other minor fixes. After playing some with a picture of the painting in the computer, I decided on some changes, and went back into the studio.

And this is the final result: And a detail, showing strokes and layers: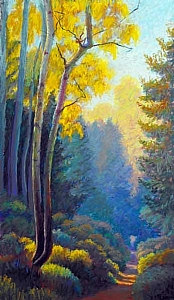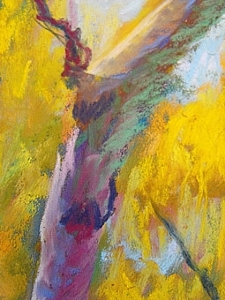 Larger version found on my website.