In the class I'm teaching, we've reached how to paint coloured transparent glass. Finding a beautiful reference photo taken by Dianna Ponting in the Reference Image Library at WetCanvas (members only, but signing up is free), I decided to paint it too. Because of its wonderful chrystal colours, and to show my students a bit of the how-to.

I really wanted to focus on the glass itself, and the astonishing colours in their cast shadows, so I chose a crop of the photo which placed the objects as a mass slightly off-center, to create some 'movement' in the picture. As the glass objects are so vivid in colour, a simple composition is all that is needed.

With transparent, if coloured, glass, there are a few things to think of.

The cast shadows will:

- be filled with coloured light,
- have deeper and duller colours where the light has to pass through a lot of glass, as around the edges,
- the coloured light will mix,
- the irregularities in the glass will show up in the cast shadows, even be enhanced in them.

Choosing a sanded paper, a white Wallis Professional for maximum reflected light, I drew the outlines of the objects, and then filled them in with flat colour (a). Next (b) the colour was made more "right".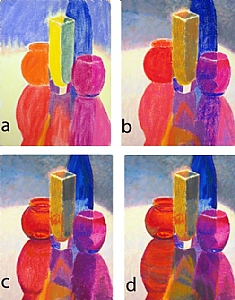 Then the three dimentsionality was begun (c), and further developed, with more details (d).

Finally, I focused on details, taking the painting to a higher finish than I usually do, in order to make the sparkling glass justice.

The finished painting is at the top of this blog-post, and a larger version can be seen here.