This is a landscape if found really exciting to paint. It is almost like a great outdoors hall, with the steep near vertical cliffs, and the smooth 'floor' of the water. It was also a challenge to make grey cliffs out of the bright colours of my pastel sticks. No actual grey has been used, only prismatic colours.

But, colour isn't all, not even to me. First, there is Design. I made a large number of Notans (really small thumbnail sketches) to map out the darks and the lights. I'm continuing the study of Notan, as it is a very efficient tool.




I know they look just like a jumble of spots, but if you look closely, you can see that I've used 4 values (paper, light grey, mid grey, black) to test different ideas. The big dark cliff has been extended upwards, or cropped. The very bg cliff has been very light, or mid grey. All cliffs have gotten different heights in different combinations. There's been more or less sky visible, and as the sky was an arrow-shape, I decided early on to let the lighted part of the cliff that vanishes in distance have lost edges with the sky, so the arrow would point to the area of interest, which is where the river bends around the cliff. Tricky thing was to try to subdue the fg brightly lit cliff on the right, and the dark to the left.

I've tried to make the masses of value connect, or at least point to each other (as with the darkest darks). There is a flow of lighter and midvalue from sky to left side of the river (vaguely an s-shape), bridged by the exclamaition mark ! of the far away lit cliff.

Those 30-seconds studies led to this underpainting: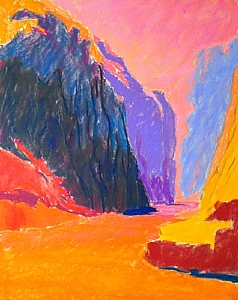 As I was working on Fisher 400 artist's sandpaper, I could layer a lot, and there is no need for a fixative.

The rather 'wild' colours of the underpainting get subdued as I layer on them, but they are what sets the quantity of light, and that is kept through the whole painting process.

See a larger version of the finished painting here.