1600s, the Baroque Dutch still-lifes
Vanity

During this period, still-lifes got detached from figures and portraits, but they kept their highly symbolic meanings. The Dutch reveled in a form of still-life called Vanitas or Vanity, "Vanity of vanities, saith the Preacher, vanity of vanities; all is vanity.", says Ecclesiastes, who despite his gloomy outlook still bothered to write his thoughts down for the posterity he didn't believe would heed his words. And it Latin it is: Vanitas vanitatum omnia vanitas, hence this kind of still-life is called Vanitas. These paintings often depicted a human skull, which some researchers think is a still version of The Dance Macabre – Death as a skeleton dancing through a world suffering from bubonic plague. Together with the grinning skull, or grouped in various ways, there were often candles that had just been snuffed out, empty glasses, dried ink-horns, an hourglass with the last grains of sand falling. Later, objects like wilting flowers and rotten fruit and flies, got introduced. And the very ripe cheese mentioned in chapter one! The general message of these Vanities was that life is short, and transitory, all flesh is hay, and will be dust. As in this skull Vanitas painted by Pieter Claesz in the 1630s, where even the pages of the book have faded: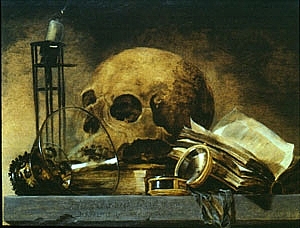 It is said that over a hundred painters focused solely on Vanities and other still-lifes in the Netherlands during the 17th century.
Flowers as symbols
Even the Dutch flower still-lifes had each flower carrying a symbolic meaning. The sunflower, for example, always turns its 'face' to the sun from morning to night, so it became a symbol of faith, or, later, blind love. Today, only a few people have studied the symbology of these paintings. An example of a floral, by van der Ast, 1622:
The above still-life depicts tulips, which were extremely expensive at that time. The economy in Holland collapsed as a result of a tulip-bulb hysteria. Nothing new on the stock market... A painting of tulips lasted much longer than the actual flowers, and their beauty could be admired for many years, indeed centuries.
Trompe l'oeil

The variety of still-life that is called trompe l'oeil (French for "fool the eye") was born in the Netherlands around 1650. Samuel van Hoogstraten is said to be the inventor of trompe l'oeils: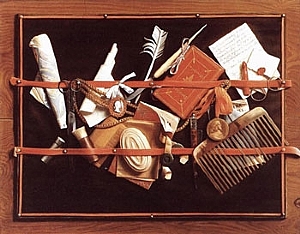 There is a cute story about Rembrandt's students painting a life-looking gold coin on the floor of the studio, and the hilarity when the revered master bent down to try to pick it up. I think it tells something of his personality – the students and apprentices dared to make pranks.
Of course an artist's paraphernalia just had to be painted in this manner. Here is a trompe l'oeil of a Vanitas and some miniatures being painted, by Cornelius Gijsbrechts 1668: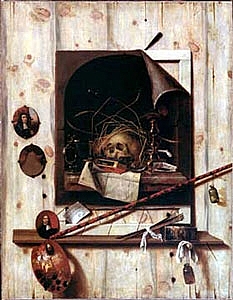 Thanks to paintings like these, we can see, in exquisite detail, how their brushes looked, and their easels and palettes, and that they indeed used mahlsticks. We also see parts of the process of painting a miniature. I was fortunate to see this large painting in real life just a couple of weeks ago. The illusion is nearly perfect. Even the Vanitas painting is subjected to time and decay, as a corner of it is coming loose and is hanging down over the painting, showing us the stretcher bars behind. Clearly wooden panels were out as a support.
Genre still-lifes

Still-lifes didn't have to have a strong symbolic meanings, but could be 'nice paintings', with distinct genres: kitchen table, market, breakfast table, etc. Here is a "light meal" of the breakfast table genre (but it could be eaten whenever you felt peckish during the day), by Floris Claesz van Dijck: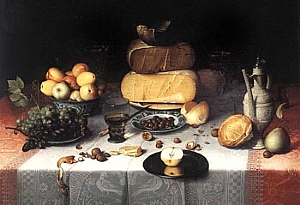 Imagine that you live in the 17th century, with no colour television, no glossy magazines. How would you react to such luxurious painting as these Dutch still-lifes? Probably hugely astonished at how anyone could paint something so lifelike, and you'd feel like you could reach out your hand and touch the objects, and sink your teeth into a grape.
To own a still-life was all the rage. And it virtually exploded in the next century, the 1700s.
To be continued.