Recently, I happened to fall and break the wrist of my right hand, the hand I use. These kinds of injuries heal rather slowly, so I really got bored with just sitting and waiting. At the same time, there was (is) an ongoing challenge in the forum of the Pastel Guild of Europe -- how to paint green landscapes. Several of us live in Northern Europe (north of the Alps), and our landscapes are as green as Ireland's. It is nice to be outdoors in summer, but for some reason green paintings do not work all that well. It seems like we see them as too green, even if they're very faithful copies of the green stuff outside.
So together we are working on a solution on How To Paint Green.
One solution is to make an underpainting in other colours, which then will peek through the greens on top of them. Another solution is to temper the greens with other colours on top of them. (The result will be different.)
I chose to paint what was an all-green scene using no green pigment whatsoever. There is an impression of green here and there, and that is an optical mix of blue and yellow. This is going back to the basics, using methods the impressionists and the pointillists experimented with.
And, I painted it with my left hand, which lead to a loser handling of strokes. There was no way I could fuss and give in to my perfectionist tendencies. I learned (again) that a loose handling is quite enough and convincing. The right hand has too much dexterity and control. I really recommend painting a whole painting using only the 'wrong' hand, it opens up one's mind. Yes, it does feel awkward. Yes, there is a huge temptation to switch hands. If you persist, you will discover new things, learn new things -- get out of the groove. A landscape is rather perfect for the experiment, as nobody cares if a tree isn't portrait like.
If I may say so myself, I really like the result. It is amazing how more convincing the image is when there is no green in it. One can probably put in a bit green at the edges between light and shadow, in order to enhance the illusion of green, and I'll try that next time.
Compare with this which I painted outdoors, on location: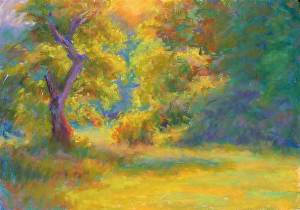 I really tried to match the greens (on top of an underpainting where there was no green). The sunlight was rather orange, as it was painted after dinner, and finished at about 8:30 pm (20:30). There were all kinds of greens, from yellow-green over blue-green, to violet-green. It is a faithful rendering of what my eyes really saw, and in that respect it was a success.
Green is one of my favourite colours, but even I feel that this sketch gives an impression of being slightly too green as it hangs on my wall. The painting of Birches somehow looks more 'natural', although it in reality is more 'contrived', more 'forced' by the avoidance of green pigment.
In a way, one can claim that painting is the ability to tell the truth via a 'lie'. If no greens, or very little of them, tells the story of a place in nature in a better way than green pigments do, then the artist will do well by 'fibbing' a bit, using the knowledge and skill they have.
And when it comes to preferences, we can be absolutely convinced of the fact that some people will prefer the no-green painting, and others will love the all-green painting. We are all different, like different things, and that is so very right.