Being at the opening of a show is important, and I had quite and adventure going there. I was all "dolled up" and ready to roar, and the car decided to refuse to start that particular morning... What to do, when the venue was on the other side of town, and there was the opening ceremony one couldn't miss? Luckily, the neighbour was just going into town, so I hitched a ride, left Hubby with the car to charge the battery. Found a taxi, and it got me there just in time.
After a speach by the boss of the place, Ricardo Donoso (in smaller picture below), and before another by a local politician, they asked all the artists to step up to the front, and tell our names and where our paintings were hung. (
Yours truly in red, with green scarf
, listening to politician. Funnily, the only other person not dressed in black happened to stand next to me.)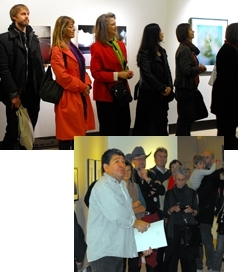 Ah, an opportunity to tote the horn for pastels! So when it was my turn, I projected my voice (choir practice), and said: "Hi, my name is Charlie, and I paint in
Soft Pastels
in one of the impressionist techniques, and it hangs over there." A CV in just one sentence, and promoting soft pastels too! Economical.
The opening day had many visitors, the next shots were taken towards the end of the day, when there was room to take pictures.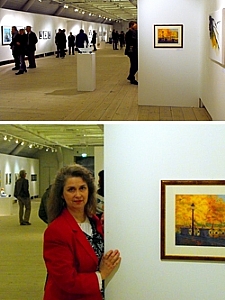 And to my joy, the painting is reserved for a collector!
Comment on or Share this Article >>
Have you ever found yourself in the situation of being told that the venue you booked for a show call you and say: "We're sorry, but we double booked, and the other person was first, so you'll have to wait"? This happening a month before christmas, and you had hoped that some of your tenderly created "babies" would find new homes, and that you would get some money so you could invest in more outrageously expensive art-materials? What do do, but to accept?

Well, you could take the matter in your own hands, and use your home as a venue. Let me tell you about what I did.

Sticking to the same weekend
Although I'd not sent out invitations yet, I decided to go for the same weekend as originally planned. It was convenient, and gave me time to prepare.

Invite
Priority one was to get the invitations out. People are usually extremely busy before christmas, so I wrote an invitation to be sent out in good time. Where, when, and how. "How" means I wrote clearly that the purpose was to show my paintings, and that they were for sale there and then. I also told them hey'd be served some mulled spiced wine, chat, have a nice time, and maybe find a christmas gift for themselves or for somebody "who already has everything". That was important, as maybe I'd help them find a solution to a problem of theirs. The other important point was to indicate that it was fine to just come and look, and leave without making a purchase, no pressure, no strings attached.

Who was invited?
Collectors, customers, friends, family, aquaintances. I asked them to bring friends, as I didn't advertize publicly, but would trust their friends in my home.

How many were invited?
As a rule of thumb, 20 people will show up if I invite 100. If I want 40 people to come, I need to invite 200. Of those who do come, about 20% will buy a painting. Maths, it is all maths -- a number's game.

Nudge
The week before the even I sent out the invitation again. Emails tend to be easily forgotten, so cheerfully reminding them of the event was necessary. Also, they got the directions again. Most knew where I live, but it is easier to actually go somewhere if you have clear directions, so I wanted to make it as easy as possible for them.

Clean House
I took down and put away anything that wasn't for sale: work that wasn't mine, old oils, workshop paintings I will keep, inferior work. On my walls hung only available quality paintings. And they hung on every available wall, including the side of a wardrobe.

Price list
I did number the paintings, and wrote a price-list with thumbnail images. They are really popular, so I printed out a lot of them. People keep them as mementos of the shows. It was on sheet, printed on both sides, and contained a line about commissions: "Like what you see but want a special subject? Contact... ". Another piece of paper had my bio and statement, but most of them were still lying on the table when I closed the show.

Ready, steady...
I had everything prepared in advance. The mulled wine (and coffe and tee) were in thermoses on a sideboard, with some gingerbread cookies and cold beverages. Fresh towels in the bathroom. Lots of seats for people to rest and chat in. And as I put the burning torches by the entrance to the house, I could see the first guests walking up to the house.

Go!
Every guest was greeted by me or my husband, at the door. They were showed where to hang coats, where to find beverages, and given a pricelist. I made it a priority to be ready to talk with anyone who wanted to ask questions, talk about art in general, and my paintings and pastel in particular. I only relaxed and chatted when there was a lull, and then I joined the social group in the livingroom cosy corner.

Keeping track
In a folder, I kept my pricelist and red dots to put on sold paintings. I wrote the name of a customer next to the thumbnail picture of the painting (being visual), and if their purchase was paid in full. I also noted down relevant information on delivery (when/where/ address. I knew I wouldn't be able to keep track of it in my head, so I really needed the memory aid.

Making change
To have change, in cash, is professional.

Keeping time
The house was open from 2 pm to 6 pm for both Saturday and Sunday during the chosen weekend. It was good for both me and my guests to have these boundaries. Another idea would be to have the Open Studio one single evening, or one afternoon. However one chooses, it is important to state a starting time, and a closing time. During it, I'm the professional painter hosting a show -- and when it is over, I can relax, let down my hair and kick off my shoes, and have a meal with Hubby and some friends.

Time to deliver
I called them in advance and made or confirmed appointments. People's plans may change between Sunday and Wednesday, and of course I'm flexible and can come two hours later than originally said.

What to deliver
A crisply clean painting, with no numbers or red dots attached. Free from fingerprints on the glass. I print out a folder for every painting, with some info on materials, care, reframing, and such. There is a printed picture of the painting, with title and size and year, and a paragraph on why I chose to paint the motif. I sign it, by hand. There is also the URL to my website printed on it.

Networking
When delivering the painting, I hand over an extra business card, telling my customer that if their recommendation will get me another customer, they'll get the next painting they buy 10% cheaper, as thanks for doing the job of networking for me.

Result
I had fun, met people, could talk a lot about art, made very decent sales, and had the joy of seeing people falling in love with my creations. In the comfortable environment of my home.

If you haven't tried it, I can really recommend having your own Open Studio.






Comment on or Share this Article >>