Do you think a pastel painter needs thousands of pastel sticks to be able to paint? Not entirely so.
Recently I took up a challenge to paint with 12 colours plus black and white, and someone commented that it looked very much like my usual painting style, so where was the challenge?
Hm, yes, that was after all basically true.
The Challenger had painted with only three colours (+ black and white), so I took him up on that.
Don't tell him, but I did choose to design the scene so it would fit the very limited number of colours...
As I worked on a fairly darkish paper, I knew I would get better results with toning the light areas with white before starting. And then I chose black to darken the dark areas. The black and white underpainting makes a huge difference. It (the finished sketch) would have been more colourful if I had used the colours for the underpainting. But I prefer to have whites and blacks under the colours.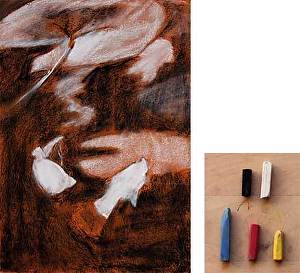 The turning fish is my chosen area of interest. But it doesn't stand (swim!) as an isolated blob in the midst of darkness. I have hinted at things growing, and things being reflected in the surface, so there is a visual path, a movement, combining the fish and the other light elements in the painting.
Now, why do people maintain that a pastel painter really needs thousands of sticks?
I have two theories about that: a) people think it is easier to search for just the right stick of just the right nuance, and b) if one starts painting with pastels, one has not learned to mix colour in a wet medium.
My personal answer to a) is that it can be quicker to modify the colour you have with another colour, and it is easier to carry a more limited palette. To b) I suggest some serious work mixing colours and learning how they behave. I started painting in oils, and did extensive studies of colour mixing. There are no quick fixes, knowledge must be earned by hard work.
So three colours work for pastel painters too. Admittedly, it isn't easy, but that palette of 14 sticks in the previous blog post are quite enough. OK, I'd like to expand on that, a little bit, for convenience's sake. But still, some 30 sticks are nowhere near the two thousand some recommend.
Good news! Sketches and studies -- and experiments -- have a new section on my website, and they are half the price of finished paintings!