"... in the window?" Remember that old song from the 50's? Last time I heard it was in the 70s, I think. It has been 'playing' in my mind all the time I've painted this, and I can't get rid of it! It really sticks, that one.

I'd like to get commissions painting people's pets. I actually like painting still-lifes, portraits, and portraits of pets, and I think it is wise to not bee too 'snobbish' in these economically shaky times. So when I 'stumbled' upon this reference, I simply had to paint it, as I also could use it to tell a story within the portrait.

That adorable little guy is not looking happy -- he even looks guilty to our human eyes. I had the thought of putting him in a flowerbed, crushing some flowers under his little round rear end. Or having a broken flowerpot in front of him. But freely associating, my thoughts kept coming back to how we so often regard our pets as more or less human. We love our pets, they are members of the family, they definitely are Persons, but, they are animals, and are happier being treated and handled as beloved animals. A dog may be an outstanding reader and interpreter of human emotions, nevertheless he won't be able to grasp abstract concepts.

So this wee pup got a Rubic's cube he is not able to solve, or handle. And he ain't happy, as it is far beyond his capabilities. That is one way to interpret it. Another would be: he chewed on it, and didn't find it tasty. I leave your intepretation to you, it will exist happily side by side with my intentions.

Working on ArtSpectrum's Colourfix, terracotta colour, I first established the darks and the lights to give structure to the painting. All darks are in a cool colour, and all lights in a warm colour, including the sunlit part of his black patches of fur. The image is anchored to the lower edge by the cast shadow, and to the side edges by half-shadows from tufts of grass.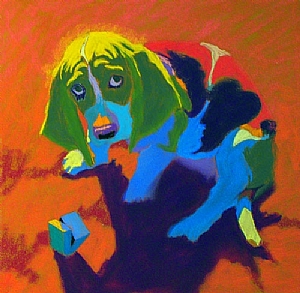 I started his brown parts with a warm green, as I could see they had a clear green bias.

In the next pic I'm two thirds done: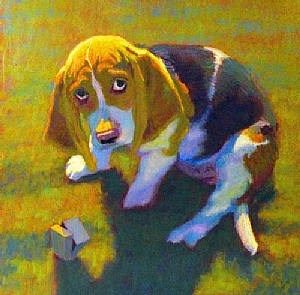 As you can see, I've covered much of the red that started his black fur in light. There are dark blues and greens there, but it still reads as in light because of the red underpainting.

I really enjoyed painting this. I'm finding I'm more and more leaning towards expressing some sort of story or idea in painting, and this puppy's face was a whole story in itself!