Fascinated by the play of light on the objects in the yellow/orange/brown family, I decided to have a "colour-feast". After doing the 'skeleton' drawing on ArtSpectrum's Colourfix paper (Australian Grey), I blocked in the masses of light and dark. The background would be loosely abstract, in order to not draw attention from the objects.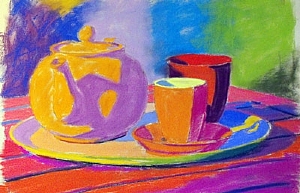 Colours are very bright and pure, and the total effect is rather garish. There is an idea behind this "madness" -- a bright start will help create a very clear sense of light and shadow. Only warm colours in the lights, and only cool colours in the shadows.
In the next phase, I try to make the initial colour-statements more 'correct'. In the image below I've started to add any colour necessary in order to approach 'correct' colour.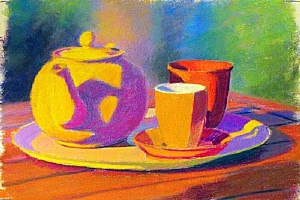 The tabletop is already starting to look much more like brown-washed pine.
I worked on, refined the colours, and the finished result looks like this:
Not so garish anymore, but still gives a clear sense of sunlight. It is much easier to tone down and neutralize a bright colour, than to brighten and lighten. The dark shadows between the planks still show through the layers on top of them, but they are much more muted -- but the layers didn't manage to cover and hide them.
I call myself a "colour-junkie", and this dose will last me several days. :-)