I've been having a flirt with the classics. This is the first nude I've painted (drawn and sketched many live models, but not made a full painting). I will surely paint more of them, as the human body is fascinating and beautiful in all its ages and forms.
Danaë was a princess in Greek mythology, who was visited by Zeus taking the shape of a golden rain. A much painted motive, and my personal favourite is
Rembrandt's
version. My painting is based on a ref photo by
Marcus J Ranum
, with permission of course.
Painting is on a full sheet of Fisher 400 (sanded paper), size 70x50 cm (28x20").
A photo really doesn't do this painting full justice, as I weave and layer pure colour to create an impression of skintones. In the below photo the left image shows how it all started with an underpainting in pastel. To the right is a detail of skin made with pure prismatic colours, and the palette I used is in the bottom image.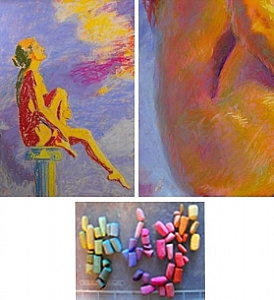 And let's take a closer look at her face, which in reality is only 3 inches high:
Contact me via the website if you feel it belongs on your wall. I want you to be 100% happy with your purchase, so you can return a painting after 2 weeks and get your money back, minus shipping cost.
Click
here
to see it in a larger size on my website.