Hi dear reader,
I've had a very nice show/exhibition of my work, which is the reason why blogging got pushed to the backburner for a while. Organizing a DIY show is quite a bit of work, starting with booking the venue, and then rushing to get all paintings framed, invitations sent out, hanging the paintings, etc etc. Then comes the grand opening, and you try to look your nicest in your prettiest and most uncomfortable shoes -- though I actually forgot to change into them.
Can you believe it, I forgot to take pictures when there were people in the place, but here are a few shots from just when I closed the doors on the whole exhibition.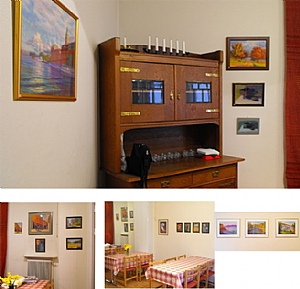 Hanging a show so it looks good is also an art. As I had many different types of frames, I tried to hang paintings with similar frames in groups, but also thought of how the paintings went together. That way, you can hang them pretty close to each other. There was a big red tapestry on the wall -- you can see edges of it in the pictures -- and I put my reddest paintings there, so the tapestry would work to enhance the work and not detract from it or take over totally.
This exhibition has absorbed all my energy for a month and a half, and I did focus on it wholeheartedly, as that is where I meet very nice people and get the means to continue painting. Of course I'll import some more of the special papers and pastels I use, but I'm really looking forward to get a good camera, with RAW and HDR functions. The camera is very important in a representational artist's work. Some scenes can only be captured by the camera. For example you may get a great shot of a brook, balancing on one leg on a rock, holding onto a treebranch for dear life while you lean out to get that perfect angle. Not so wise to try to paint in that position... Another time you may be out in a lovely landscape, and set up your Plein Air gear, get a painting started, and suddenly rainclouds march over the sky. Then you're really glad you got a shot of the scene before painting, so you can finish the work in the comfort of your studio. And when a painting is finished, it needs to be photographed and put on the website.
A big thank you to my customers and collectors for making it all possible!
And I very much look forward to painting a lot of Plein Air this coming season.