After a very busy time with classes, exhibition, and commissions, I could try out my investment in a small set of the fabled Henri Roche pastel, made by La Maison du Pastel in Paris, France. Handmade with methods that are centuries old, these are the most luxurious pastels that exist. It is the pastel brand used by Degas, Monet, Rosabla Carriera, and other famous old masters.
After carefully selecting 36 pastels in mainly 3 values (3, 5, 7), plus a couple of darks and some near whites, I eagerly waited for the postman to bring it. Hovering by the window, waiting for him, I rushed out and grabbed it from his hands before he could drop it in the box.
When opening the parcel, I found several neat cardboard boxes with the cool logo of Henri Roché...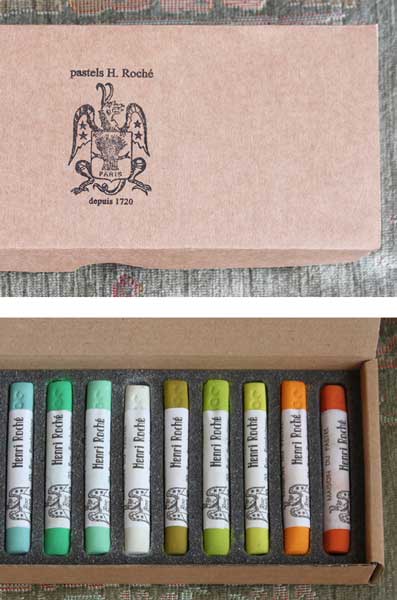 ... and inside them were glorious colours!
The "candy boxes" sat for a while, being just pretty, while I was working with business related things. Finally I found some free time to paint "Old Town Glow (Stockholm)". In order to have a greater variation of strokes, I broke off (gasp!) about a third from the long sticks. (Below: some sticks photograph as if the colours were similar. In reality, they are different, except the lemon yellow which is a duplicate.)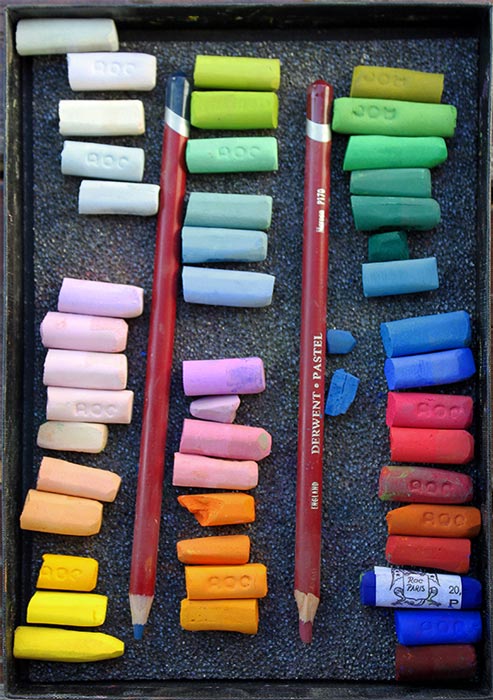 During my earlier experiments with a sample set, I had made a discovery: the Henri Roché pastels respond very well to a high quality fixative, which allows for multiple layering on what I call plain pastel paper. This pastel, the Henri Roché, is what allowd Degas to create his fantastic shimmering paintings. (See my article for The Pastel Scribbler on discovering Dega's "secret" method, as I reviewed the Roché pastel.)
Here is a closeup showing the rough texture of a Degas painting (left), and a detail from my own (right), with a similar texture: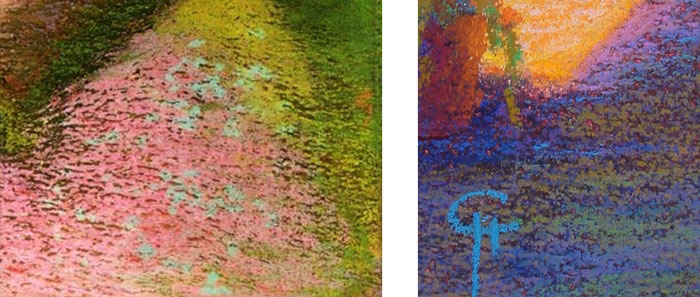 This typical texture can only be had when fixating between layers. I'm talking about a light fixation, not a drenching of the pastel. If a firmer layer is needed, do spray fixative in a light application, let it dry completely, repeat as many times as needed. I find that about two light applications is usually sufficient.
What this technique does is that it allows you to layer just about any colour on top of any other, without mixing them. Degas has let an olivy green and a rosy pink layer into each other, and while the optical mixing does show a certain greyness, both colours are vibrant as they mingle in the eye. Blending these would have resulted in a much duller grey.
Can you do that with other brands of pastels? Not as well, in my opinion. In other brands, the pastel dust tends to melt and darken much more, and fuse. The Roché pastel marks may darken a hair depending on if there is a darker colour underneath, but the marks keep their individuality and vibrancy.
I still explore the Henri Roché pastels, as they behave differently from other pastels. I will try them on other papers, too, as for example Ingres. In this painting, I applied light scumbling strokes, while the strokes in the sketches in the article were more impressionistic.