På svenska
History
What's in a Pastel Stick
Longevity of Pastel Paintings

H

istory
Pastel crayons are known to have been made in the 16th century, and pastel painting became extremely popular in the 18th century. The Venetian female artist Rosalba Carriera (1674-1757) became a highly celebrated pastel portraitist at the court of Louis the XV.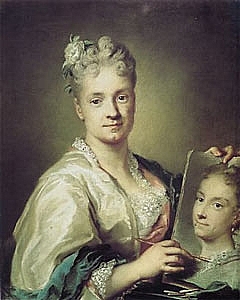 Self Portrait in pastel by Carriera.


Maurice Quentin de la Tour (1784-88) followed the example of Rosalba at the same court.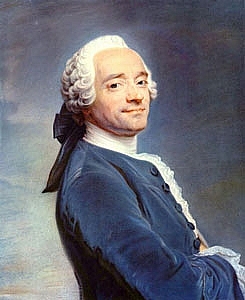 Self Portrait in pastel by de la Tour.

The French court loved the matte and velvety surface of pastel paintings, and it was very fashionable to have one's portrait painted in pastel. In year 1780 it is said that there were no less than 2 500 pastel artists in Paris only. That which was the highest fashion in Paris very rapidly spread to other countries, and in Sweden there are pastel portraits from the 18th century still hanging on the walls of many palaces and manors.



Photograph and enlarged detail taken by me in Sturehof hall outside Stockholm.

Edgar Degas (1834-1917) is the most well-known pastelist of all times. He collected the pastel works of de la Tour and other artists.
Many great artists have painted or drawn in pastels. Leonardo da Vinci used a red chalk very similar to pastel. A few other well-known artists are: Liotard, Chardin, Perroneau, Turner, Redon, Vuillard, Cassatt, Monet.
Pastel painting again growing in popularity all over the world. A rapidly increasing number of artists and collectors are re-discovering the almost ?magical' luminosity of the colours of dry pastels.
Top of Page
What's in a pastel stick
Soft pastels, maybe better named ?dry' pastels, consists of pure artist-quality pigments. The pigments are mixed with water into a paste, a ?dough' as in the Italian word ?pasta', hence the name ?pastels'. The ?pasta' is formed into sticks, which are then dried. Sometimes a binder, like gum Arabic (same binder as in watercolours, and it is also an often used binder in candy) or gum tragacanth is added, in order to ?glue' the pigments to each other so a stick can be formed and so it holds together. Manufacturers have differing recepies, and some add fillers like clay, chalk and talc. Artist's pastels of high quality have less or no fillers.
Oil pastels are pigments mixed with wax and/or non-drying oil.
Top of Page
The longevity of pastel paintings
Since there are no carriers in the pastel pigments that can age and oxidize, the paintings will remain as fresh as when it left the easel of the artist. There exists pastel paintings and drawings that are centuries old which still look as they were made yesterday (see History). When you own a painting made by me, you know it is painted with pure and lightfast pigments, on acid-free paper. It will look the same in year 2508 as it does today. You and your descendants will be able to enjoy it for a very long time.
A pastel painting is sensitive to having something dragged over the surface, but the glass protects from that. The pastel covered surface isn't affected by a light vertical pressure. The pigments ?cling' very well to the support . I give every painting a good whack on the back when it is finished, in order to dislodge loose dust. There is plenty of pigment on a painting, so a few particles falling off is no problem whatsoever. An artist colleague told me that the gallery where she exhibited had burned. The oils had been ?roasted' and cracked. The acrylics had melted and hung in sooty strings. Her pastels were undamaged behind sooty and cracked glass, and five years after the fire they are healthy and fresh in new frames and glass. So pastels are much sturdier than one may be inclined to think.
Pastel paintings have a lasting value and beauty.
Top of Page
På Svenska
Historik
Pastellkritans beståndsdelar
Pastellmålningars livslängd
Historik
Pastellkritor tillverkades redan på 1500-talet, men pastellmåleri blev riktigt stort under 1700-talet. Den venetianska kvinnliga konstnären Rosalba Carriera (1674-1757) blev omåttligt populär när hon gjorde porträtt i pastell vid Ludvig XV:s hov.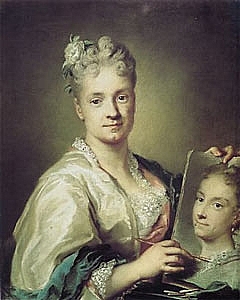 Självporträtt i pastel, Carriera.
Quentin de la Tour (1784-88) följde Rosalbas exempel, vid samma hov.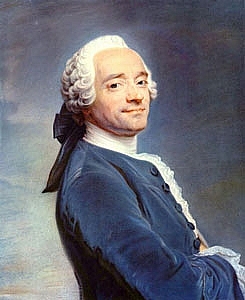 Självporträtt i pastell, de la Tour.



Franska hovet älskade pastellporträttens matta sammetsliknande yta, och det var mycket fashionabelt att låta sig porträtteras i pastell. Det finns en uppgift om att det i enbart Paris år 1780 fanns inte mindre än 2 500 pastellmålare. Och vad som var högsta mode i Paris spred sig mycket snabbt till Sverige. I stort sett i varje slott och herrgård runt om i Sverige hänger det pastellporträttfrån 1700-talet.



Pastellporträtt på Sturehof, med förstorad detalj.

Den i särklass mest kände pastellmålaren är Edgar Degas (1834-1917). Han samlade på de la Tours och andra konstnärers pasteller.
Många av konstens stora har målat och tecknat med pasteller. Leonardo da Vinci använde en pastelliknande rödkrita, till exempel. För att nämna några få: Liotard, Chardin, Perroneau, Turner, Redon, Vuillard, Cassatt, Monet.
Pastellmåleriet har nu ett uppsving världen över. Fler och fler konstnärer och samlare upptäcker pastellernas nästan magiska lyskraft i färgerna.
Upp
Pastellkritans beståndsdelar
Pasteller består av rena högkvalitativa konstnärspigment som blandas med vatten till en 'deg', på italienska 'pasta', därav namnet pastell. 'Degen' formas till kritor som får torka. För att pigmenten skall hålla ihop, tillsätts ibland ett bindemedel som har till uppgift att "klistra ihop" pigmentpartiklarna. Ofta är det gummi arabicum (som är vanligt i akvarellfärger, och i godis!) eller gummi tragantum. Olika tillverkare har sina egna recept och kan blanda i diverse olika fyllnadsmedel som kaolin, krita, och talk. Högkvalitativa konstnärspasteller har inget eller mycket lite av fyllnadsmedlen inblandade.
Det finns torrpastell och oljepastell. I oljepasteller bärs pigmenten av en icke torkande olja och/eller vax.
Upp
Eftersom det inte finns någon bärare som kan reagera kemiskt, så kommer din tavla att alltid se lika fräsch och pigg ut som när den lämnade konstnärens staffli. Det finns 500 år gamla pasteller som fortfarande ser helt nygjorda ut (se avsnittet Historik). Har du en av mina tavlor vet du att den är gjord på syrafritt papper, med syrafri passepartout, och med de mest ljusäkta pigment som finns att få tag i, och kommer att se ut precis som i dag långt in i framtiden, åtminstone till år 2508 och säkert mycket längre. Du och dina efterkommande kommer att kunna glädjas åt den under lång tid.
En pastellmålning är känslig bara om du drar något över ytan på din tavla, men glaset skyddar mot det. Ytan tål ett lätt tryck utan problem. Pigmenten "klänger fast"' vid pappret mycket bra. Jag har gett varje målning en rejäl "dask i baken" när den är färdig, för att skaka loss allt som sitter löst. Det finns gott om pigment i en tavla, så några korn som faller av gör ingen skillnad. En konstnär hade sina pasteller utställda i en lokal som brann. Alla oljemåningar 'rostades', alla akrylmålningar smälte och hängde i sotiga plastsjok, men hennes pasteller var oskadda bakom sotiga och spruckna glas. Fem år senare mår hennes tavlor fortfarande bra, bakom nya glas och ramar.
Pastellmålningar har ett värde och en skönhet som varar länge.
Upp